This guidance covers the colour references we use when preparing units on the cadastral map.
In preparing cadastral units, we use a variety of colour references such as edges, tints, hatching, labels, lines and text. These references are deployed on an application-by-application basis to provide clarity and to support the accuracy of the mapping of the extent of the registered plot of land and, where appropriate, the rights and burdens pertaining to the plot.
The most common reference you are likely to see is the red edge. This generally denotes the extent of an exclusive plot of land, or in the case of flatted property it will define the tenement steading cadastral unit representing the tenement (including land pertaining to it).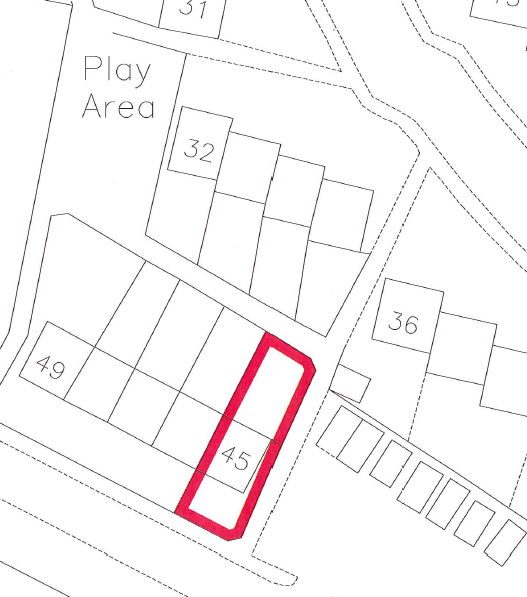 There is a very important point to keep in mind regarding cadastral units defined by a red edge. Occasionally, the edging will be applied externally to the boundary defining the plot: for instance, where a red edge covers another colour reference or important detail near to a boundary. For this reason, it should not be assumed that the registered extent includes up to the outer edge of the red, but rather see the registered boundary as being the black line (firm or pecked) to which the red edge has been applied. See the below image.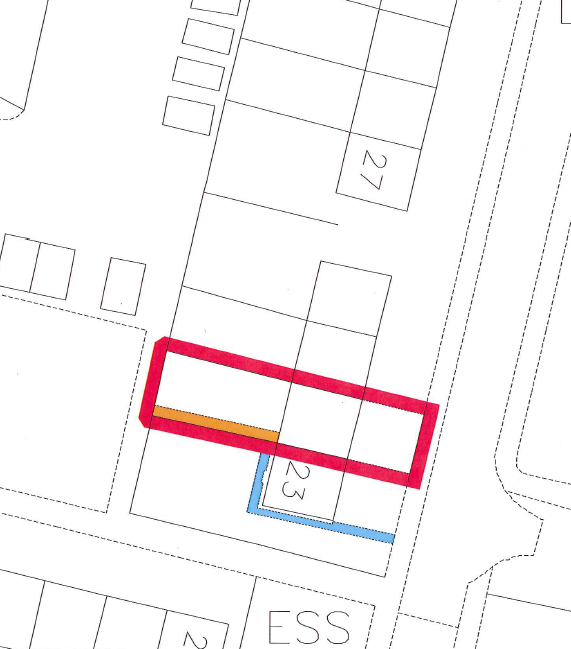 Registers of Scotland staff may also use tints or hatchings to provide such information, with the precise references they use dependent upon the circumstances of the application in question.
In addition to showing the position and extent of a registered plot of land, the cadastral map will, when necessary, provide a means of reference to a particular part or parts of a registered plot of land or to adjacent land. Where certain encumbrances affect - for example, burdens, servitudes or leases etc, in order for the encumbrance to be distinguished on the cadastral map, a "plans reference " will be shown for that encumbrance.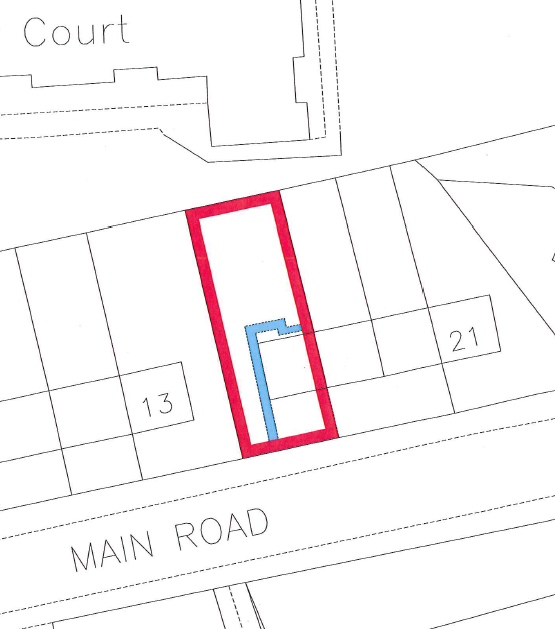 Conventions govern the use of certain plans references in given circumstances and these principles are used in general practice:
This is the most common method of referencing used and is used, where practical, in preference to coloured edging or hatching. In the interests of consistency the following guidelines are followed were possible (The overriding consideration is that the tints must be easily and clearly distinguishable):
BLUE - solum of buildings;
PINK - exclusive ground or drying green;
YELLOW - paths and areas burdened by Tree Preservation Orders;
BROWN - drying green or paths;
MAUVE - small areas such as bin stores and for garage forecourts in Scottish Homes Titles;
GREEN - (with external red edge) for areas that fall within a red edge defining a cadastral unit, but do not form part of that registered plot of land. For example the style may be encountered when viewing an extract or copy of part of the cadastral map pertaining to a developer's title. Otherwise green may also be used infrequently as a reference for small areas when no other reference is possible;
RED - can be used for small areas but only when no red edge has been used.
Below is an example where numerous references have been used.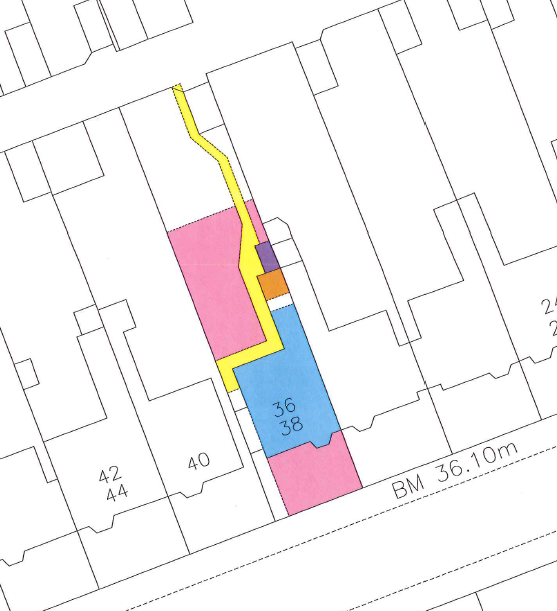 There are some exceptions to these guidelines, often relating to specific styles set up for certain developments that reflect Deed of Conditions references.
A convention exists for the use of brown and blue tints to be used to show burdened and benefitted servitude areas respectively.
Coloured edging - other than straight forward red edging
This is mostly used as references on large or Parent Titles but can serve as a useful alternative to tints. The guidelines are:
1. Edging and numbering in green is used for referencing those parts of a cadastral unit where the whole right, title and interest in those parts are being removed and transferred to become a separate cadastral unit (for example when a house plot is removed from a developer's parent title).
2. Edging and numbering in blue (a) appears in older Title Sheets to reference the superiority interest formerly remaining in the Parent Title where parts of the subjects were feued; and (b) in the case of tinting method, where other means of identifying areas have been exhausted; for example, to define, say, a drying green. There are some other, rarer, instances of use, such as areas affected by Deed of Conditions on certain Glasgow District Council cases, where additional pro indiviso land is not affected by the conditions;
3. Edging and numbering in yellow is commonly used when referencing the part of a cadastral unit that is subject to a registered or recorded lease.
4. Edging and numbering in brown or mauve is used to reference that part of a cadastral unit that is affected by any deed other than a lease: for example - Standard Security of part, Discharge or Disburdenment of Part, or where multiple deeds are referred to for burdens.
5. Edging and numbering in red is used when the area being registered is made up of numerous portions all of which require separate references and the use of other coloured edgings would be cumbersome or unclear.
6. The Keeper will on occasion use an edge in order to free up a colour tint for another use in complex title eg using a blue edge instead of a blue tint for the solum of a building in complex titles requiring multiple references.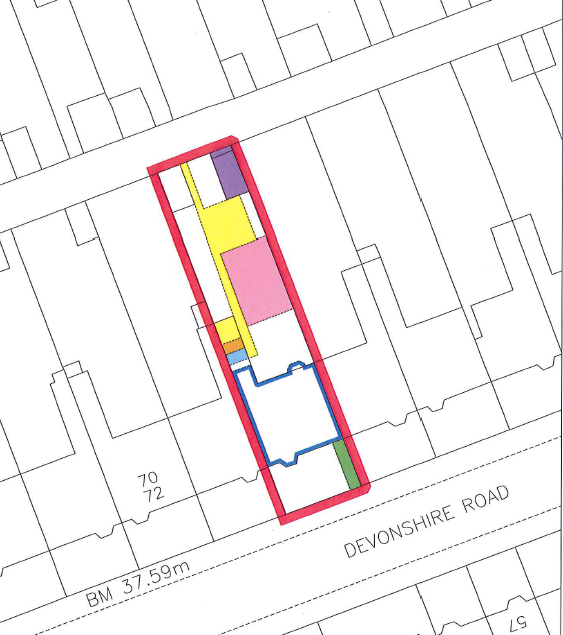 Numbering or lettering
Where the reference relates to a large area, a number or letter is combined with a coloured edging (see (b) above). For numbering or lettering small areas, arrows and numbers or letters in blue are used to reference points or small areas. Occasionally individual trees within a Tree Preservation Order are arrowed and lettered T in red on the Title Plan.
Lines
Broken or firm lines in colour are used to indicate lines of drainage, cables, etc. Blue and brown are normally used for water and gas lines, respectively. Where a number of coloured lines are needed on a Title Plan, the lines are lettered at their extremities if they do not intersect.
Hatching
Hatching can also be used to increase the number of references available when mapping a particularly complex title. There are no specific guidelines as to colour to be used - the important criteria is clarity. In a small number of historical titles, cross-hatching was used. This plans reference is no longer in use.
A title sheet will never include a plans reference that refers to an uncoloured portion of the cadastral map.
Boundary reference arrows
Although no longer added to the cadastral map for new registrations, many older titles registered under the previous land registration legislation show black arrows that provide additional information regarding the boundaries of a plot.
These arrows were added when the title deeds for the plot included specific information about the legal boundary relative to a physical feature such as a fence, wall or hedge.
Common examples were a boundary being described in the deed as following the centre line of a mutual gable wall, or the outer face of a hedge.
where the black arrow is positioned across a feature on the map, this indicates that the boundary is stated to be the centre line of that feature
where the black arrow is positioned inside the plot and is pointing at the inside of a feature on the map, this indicates that the boundary is stated to be the inner face of that feature
where the black arrow is positioned outside the plot and is pointing at the outside of a feature on the map, this indicates that the boundary is stated to be the outer face of that feature